Di Piala Dunia 2006 Jerman, istri-istri pemain Inggris atau yang kerennya disebutl WAGS pernah membuat heboh dengan pakaian seksinya. Salah satunya adalah gacoan The Three Lions, Abbey Clancy, tunangan Peter Crouch.
Gadis-gadis seksi memang menjadi bumbu penyedap bagi para pemain sepak bola. Tak ingin ketinggalan, kaum hawa yang tergabung dalam tim nasional Jerman berpose panas di majalah Playboy edisi Jerman, Juni ini.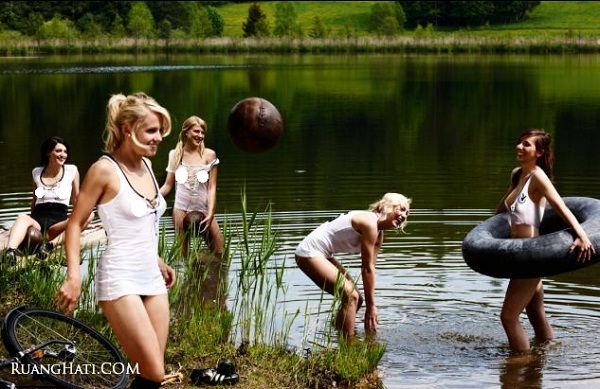 Pemain Bayern Munich Annika Doppler, 19, Ivana Rudelic, 19, dan Julia Simic, 22, serta Gütersloh's Kristina Gessat dan Wolfsburg's Selina Wagner meninggalkan sedikit imajinasi saat mereka bermain-main
Foto The Madchen–sebutan bagi timnas wanita Jerman–tampil di halaman depan Playboy. Dalam empat pose yang diterbitkan Daily Mail, mereka tampil dengan hanya menggunakan kaus singlet tembus pandang berwarna putih.
Annika Doppler, 19 tahun, Ivana Rudelic, 19 tahun, dan Julia Simic (22) yang bermain buat Bayern Muenchen, Kristina Gessat (Gutersloh), serta Selina Wagner (Wolfsburg) tampil pede. Mereka mejeng tiga pekan sebelum digelarnya Piala Dunia Perempuan pada 26 Juni ini.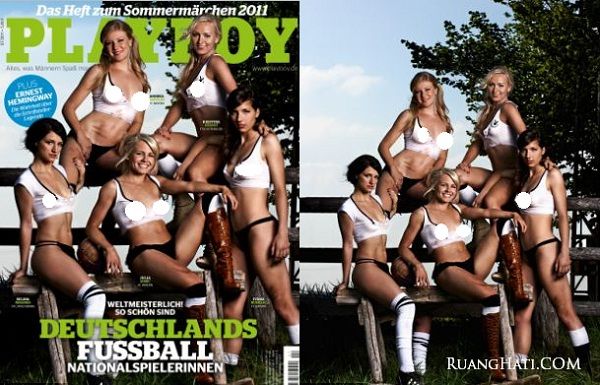 "Pesannya adalah lihat, kami juga wanita normal dan cantik," kata Gessat, salah satu pemain wanita Jerman yang tampil. Nina van Splunter dari Playboy Jerman mengaku setiap orang Jerman tahu betapa populernya sepak bola di negeri tersebut.
Seperti kaum pria, prestasi timnas wanita juga sangat sukses. "Wanita-wanita yang ada di foto memang bukan pemain timnas utama Jerman. Kami memang tidak meminta izin dari Asosiasi Sepak Bola Jerman (DFB). Namun, tampaknya tidak akan ada masalah.
Jika tidak, klub mereka pasti telah melarang," klaim Splunter. Timnas wanita Jerman akan mulai mempertahankan gelarnya di Berlin melawan Kanada. Setelah itu, giliran Inggris yang akan meladeni Meksiko.

sumber